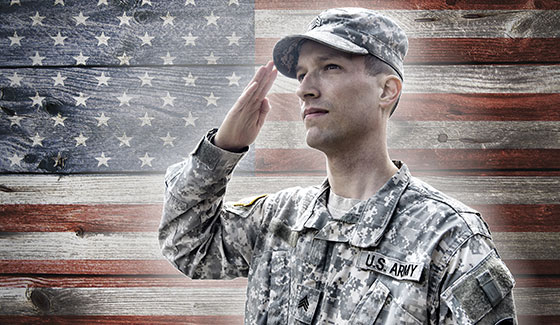 You've earned this benefit!
Are you a veteran, member of the military, or a surviving spouse of a veteran?
Do you want fast approval and minimal red tape?
Are you interested in refinancing up to 100% of your home, or buying a home with no down payment?
If you answered "yes" to any of these questions, a va loan might be right for you! Qualify for VA loans even with less-than-perfect credit. They are available as either fixed-rate or arm mortgages, and unlike other options, they never include monthly mortgage insurance.
Why a VA loan?
It's simple … Lower rates. Lower payments. $0 down.
Find out why thousands of people are using their va loan benefit every single month. Allow us to see if we can help you lower your monthly payment, lower your interest rate and purchase a home with $0 down.
Purchase with $0 down
A va loan is one of the only loan programs that still allows the borrower to finance 100% of the home's value and purchase with $0 down.
How much will $0 down save you? Conventional loans will require a minimum of 5% down, and depending on credit and ratios, a larger down payment may be required.
Lower your monthly payment
A VA loan offers two benefits that can substantially lower your monthly payment. PMI, or Private Mortgage Insurance is not required on a va loan. PMI is an added monthly expense required for conventional loans where the borrower finances more than 80% of the home's value. You'll also be able to take advantage of competitive rates.